Washington Post, September 2015
In rare papers up for auction, Jackie Kennedy makes an inscrutable heroin joke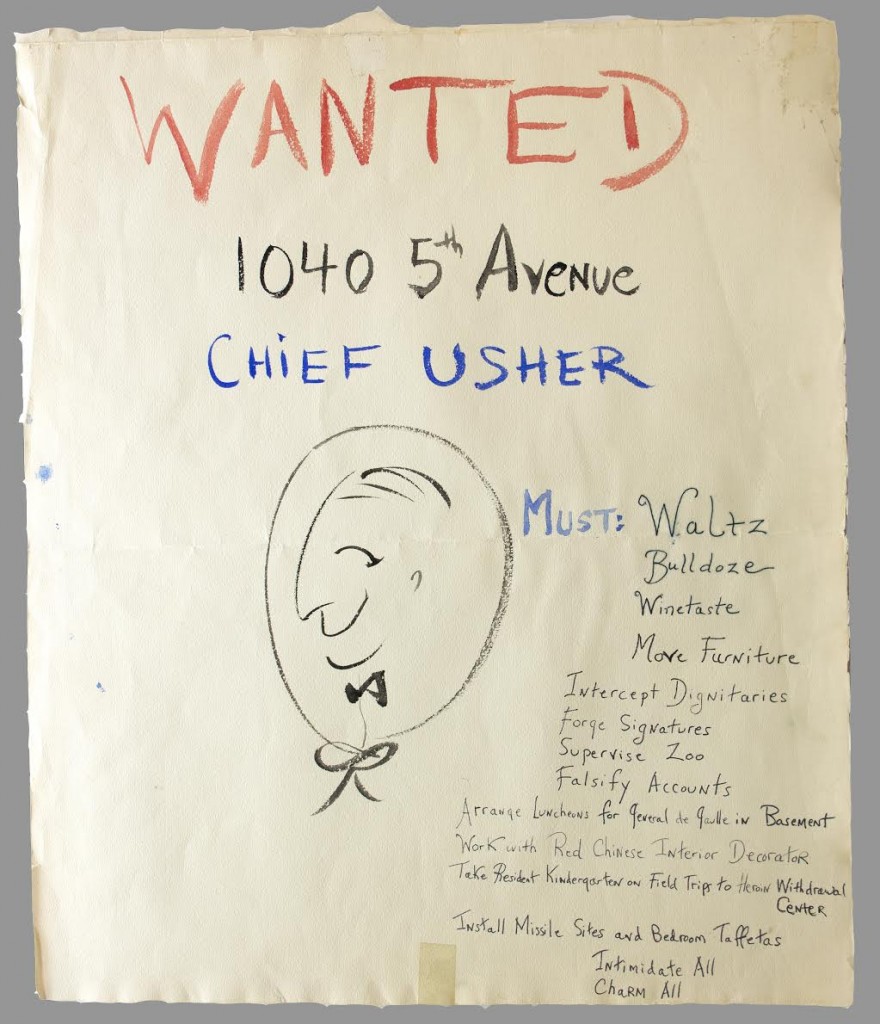 Jackie Kennedy is known for her elegant, tasteful transformation of the White House interiors, but a new cache of papers up for auction offers a rare peek at the nitty gritty aspects of prettying up the presidential digs — as well as the former first lady's wicked sense of humor.

In letters, drawings, and other items being sold by Virginia-based Quinn's Auction Galleries mostly from the estate of James Bernard West, the Camelot-era White House chief usher who died in 1983, Kennedy shows an attention to the aesthetics of even the humblest working spaces. In one missive, she instructs West to make changes to make the press room look tidier, including possibly adding shelves and trash cans for the sloppy men of the Fourth Estate — though the first lady admitted it was an uphill battle. "That room will never be ideal as they leave their cubbys messy," she said of the scribes.

Letters cover mundane details, from the kinds of trash cans she wants in public areas to the positioning of dog beds and light fixtures, with the occasional flash of the first lady's gently acerbic wit. In the West Foyer, for example, Kennedy asks West to remove a gold trophy: "it looks like the prize one would give to a lady driving champion," she writes.

Another moment of Kennedy's levity comes in a watercolor poster (estimated to draw as much as $3,000) she made for West in 1971, well after the family's departure from the White House. In honor of West's visit to the family's home in New York, Kennedy drew a faux "wanted" sign advertising for a chief usher for their Manhattan digs. Among the duties of the job — those presumably those handled by West during the family's White House years — included "waltz," "bulldoze," "winetaste," "intercept dignitaries" and "forge signatures."

And then another task that sounds like some kind of inside joke: "take resident kindergarten on field trip to heroin withdrawal center." Hmm.

Matt Quinn, Executive Vice President of the auction company, says that while there is plenty of Kennedy memorabilia out there, many of the pieces on the auction block offer a rare, intimate look at the storied family. "To find something that's this personal — it's an honor," he says.

The auction takes place online and live in Quinn's in Falls Church on Thursday night.

This article was originally featured in the Washington Post on September 9, 2015. Source credit: Emily Heil is the co-author of the Reliable Source and previously helped pen the In the Loop column with Al Kamen.